In this post I will mention curious places in Prague which are nice to visit if you've already seen major attractions of Czech capital (such as St. Vitus Cathedral, Golden Line, Charles Bridge area and other essentials).
This guide is more for those who are second (or third) time in Prague or just like to discover the city exploring slightly less popular attractions.
For me it was my third visit to the city so I wanted to see places visited also by locals, less crowded museums, curious parks and visit interesting sites away from Prague but easily accessible by train. One of such destinations was my trip to Kutna Hora which has long silver tradition and  was a Royal Town prestigious to the point that it even competed with Prague. Since 1961, Kutna Hora has been a part of the National Heritage List, since 1995 it has been the only town with the UNESCO status in the middle Bohemian Region. Check this post to see my one day itinerary.
Vrtba Garden
This time I visited Prague in the spring so I wanted to enjoy parks and discover green side of the city. I discovered 3 parcs and my favourite one is without a doubt the Vrtba Garden.
Vrtba Garden is a hidden gem with a bit difficult to find entrance on the Karmelitska streen in Mala Strana.
This is one of the finest gardens in Prague and an architectural masterpiece. The garden is situated on Italian style terraces and was created in the beginning of 18th century for comte Joseph Vrtba who was the highest burgrave Prague Castle.
As you walk between terraces you go uphill and can admire beautiful views at Prague's rooftops and Prague Castle. In the garden you will find elegant sculptures and cosy altars where are comfortable benches if you want to hide in the shadow and relax or read a book. On the very top of level of the garden you have a very impressive viewpoint, the garden is also neighbouring gardens belonging to the American embassy so you can also have a look.
There are few benches on this small balcony where you can sit and contemplate the landscape. Close to the entrance you can enter the attached building and see a small exhibition of artists from whom you normally can buy the paintings being currently on display. There is a small entrance fee to enter the Vrtba Garden but I find it absolutely worth it. Profit well and take your time when strolling this beautiful baroque small parc.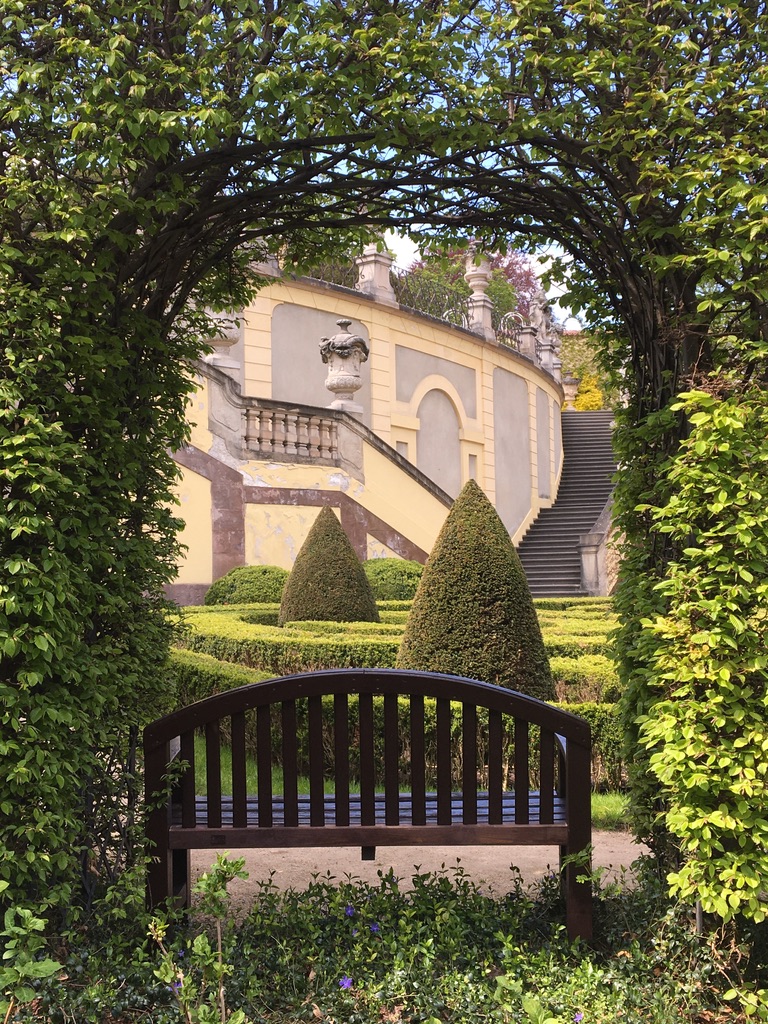 Vojanovy Sady
This parc I discovered by accident when walking around the Old Town. This is a domestic parc few minutes walk away from Charles Bridge with a much more local touch. The main highlight of this place is many peacocks strolling along many paths and alleys. During my visit there was a mating season of these birds so male peacocks were enchanting us (and the female bird of course!) with their stunning dances when spreading their impressive tails.
Very amorous peacock trying to impress the female
Dancing to encourage affection ❤️
They were also hidden in the trees and you could hear their dramatic voices from all over around. This was really an amazing spectacle and I highly recommend you to visit this place when strolling around Old Town or heading from Vltava to Hradčany. Great fun guaranteed!
I visited during cherry blossom season
Senate Gardens
The last parc I visited is Senate Gardens, which is an elaborate space with elegant fountains, baroque statues and the Senate building attached. This is another Baroque style garden designed in a geometric form and it was created the same time as Wallenstein Palace in 17th century. 
The gardens are nearby Vojanovy Sady so you can visit two places at once. The entrance is free but the parc gets closed at 7pm so don't plan it for the evening stroll. I came there in the afternoon hours and met a lot of families with children there.
Nelahozeves Castle's impressive facade
Nelahozeves Castle is one of Bohemia's finest 16th century Renaissance castles located just 35 km north of Prague. It is perched above the Vltava River overlooking the birth house of great Czech composer, Antonin Dvorak. Today, it houses a museum which displays significant part of the Lobkowicz Collections, one of Europe's oldest, finest and most intact family collections dating back over 1000 years. Its historical rooms, courtyards and gardens are used throughout the year as venues for private and corporate events as well as annual festivals.
Practical info: The Castle is easily accessible by train from Prague and the whole trip should take you half a day. You can also rent a car, there is a parking for visitors. There is no free visit available, you can only have guided tour at specific hours. The tour takes around one hour and is in Czech only. However, you will get a brochure in English for your visit and in my opinion you will find there more information than the Czech guide provides. The staff speaks English so you can ask additional questions so in the end, you fully profit from the visit.
Very well preserved interiors of Lobkowicz family residence
I always like to pay special attention to details of the noble houses
The trophy hall. Hunting was one of the favourite pastimes of noblemen at that period
… and a bit more details from the castle's interior. The master's bedroom looks so cosy! Look at this functional cabinet where you can write your letters and do all the admin job!
When you wait for your train at the station, look into small cafeteria in the station building. You will find there some small snacks and local wine 😉 Perfect refreshment before journey back.
The State Opera in Prague
When you're in Prague, I highly recommend to go one evening for the opera performance. What I really like about Czech Opera is that they often display world famous operas (I love Italian opera and find it regularly in their programme) and that tickets are available even few days before performance. You will see here many locals and whole Czech families enjoying their cultural evening. You can book your tickets online, the staff speaks English. The State Opera's building has really stunning interior and the building itself is conveniently located close to train station. You can check their programme here. During last visit I went to see Rusalka composed by Dvorak since I wanted to familiarise a bit more with Czech folklore through the most famous Czech opera.
I'm not sure if visiting National Gallery is a first choice for first time visitor in Prague, plenty of time would probably go to see the Royal Complex. However, Prague has a very vast collection of paintings and the National Gallery has few buildings with different collections. If you like art, I suggest to choose one (or two) collections which you are most interested in and spend half a day in this museum. I have chosen to visit Swcharzenberg Palace with the Old Masters paintings (you will find here for instance masterpieces of Rembrandt and Rubens aming many others). The display concentrates on the period between the 16th and 18th centuries and the pre-Renaissance tendencies in Gothic and Antiquity art as inspirational stimuli for Renaissance and Baroque art.
The Swcharzenberg Palace hosting the old masters collection is an interesting building on its own. This North Italian style Renaissance residence was completed in 1567 and belonged to Lobkowicz family. Over the following decades, the palace had several owners and eventually was inherited by the Schwarzenbergs in the early 18th century.
Part of the Old Masters Collection
You have a splendid view at Prague from the surroundings of the Palace // I am a huge fan of the still art collection of the gallery.
I hope to spend even more time in Prague. The city has endless amount of hidden gems 💎