Visit to Norway brings to mind images of beautiful untouched nature, polar lights in the winter and outdoors activities such as hiking, kayaking or skiing. However, it's good to know that Norway offers plenty of quality products, some of them are quite difficult to find outside of the country. Due to the fact that Norway is not in the European Union, also residents of EU countries can enjoy the tax-free shopping which makes prices of Norwegian goods much more attractive.
In this post I give you the list of authentic, traditional and unique items you can bring from Norway as your excellent souvenir 🎁
Specialty outdoors clothing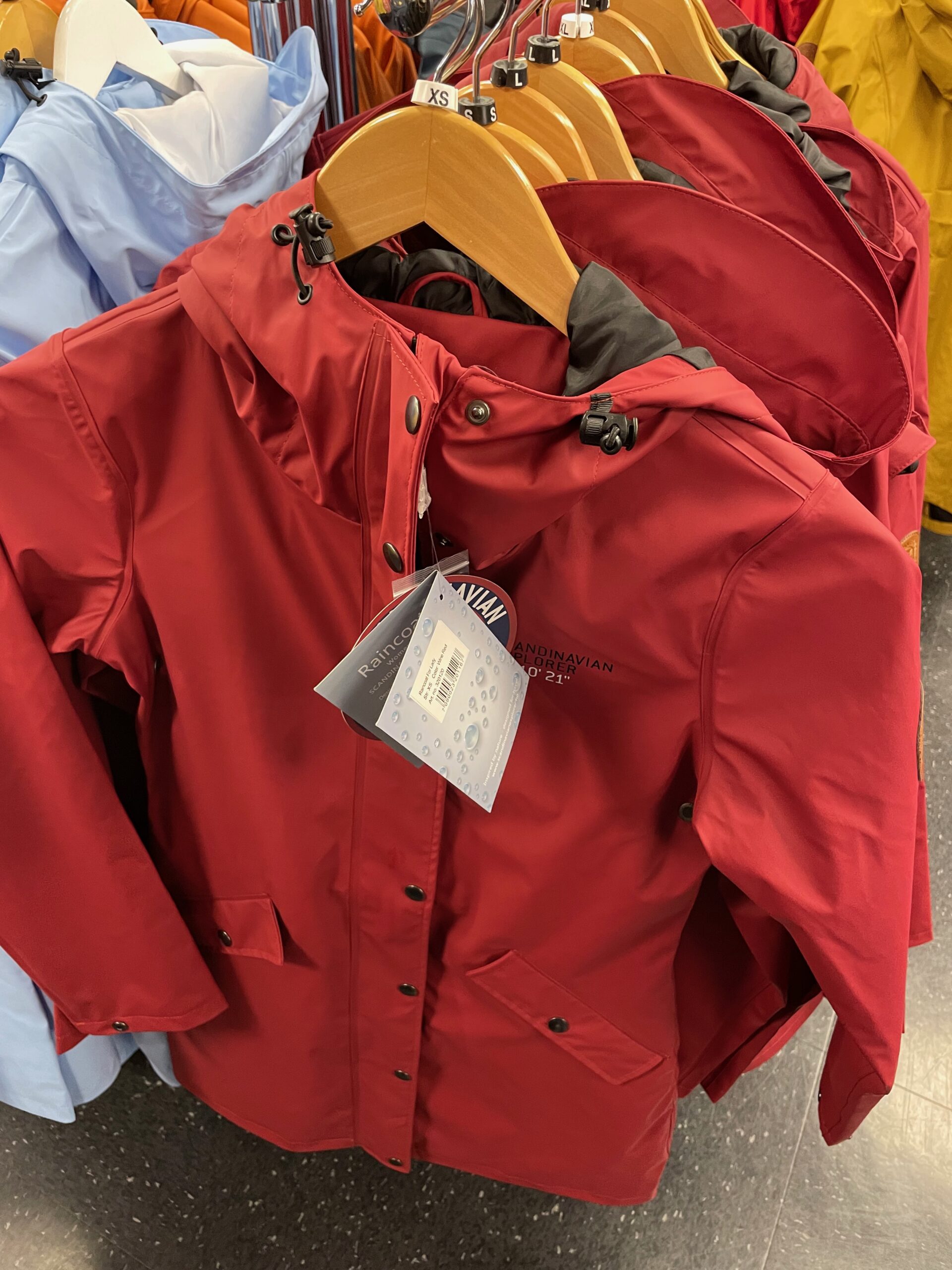 Norway is known for its harsh climate with low temperatures, wind, snow and rain. To be able to function in such environment it's crucial for locals to have adequate clothing. Norwegian brands offer a wide range of waterproof and windproof garments, insulating jackets, quality hiking shoes, skiing equipment, etc.
If you live or often travel to countries with similar climate or just want to get very good quality items for outdoors activities in demanding conditions, it's a good idea to do some shopping in Norway. Note however that it's really important to prepare yourself a bit before your actual visit to the Norwegian boutiques. For Norwegians it's really crucial to buy appropriate clothes based on the time of the year and purpose of their use, in many cases their safety and health depend on this, thus on most of the products you will find detailed description containing many parameters such as breathability, water resistance or windproof properties. In order to buy garments which will be adequate to your needs it's better to:
learn how to

read waterproof and windproof ratings

of the garments;
pay special attention to

temperature rating

which represents a comfort range you can expect the garment to perform well;
think about the

weather conditions in which you want to wear the clothes

(the climate of the country and in which part of the year you want to use the clothes, how often you want to wear them, etc.);
in the shop make sure you spend enough of time

carefully reading all the properties of the clothes

, don't hesitate to ask the stuff if you have some doubts or questions;
reflect for which exact

purpose you need the garment

and make sure you prioritize the properties which are adequate to the activities you want to use the item for;
make sure that the sports/ outdoors activities

equipment is suitable for a use in the climate and conditions of the country

where you want to employ it, it's better read about it or discuss with some experts before your travel to Norway.
Wool sweaters and winter accessories
Norway is a perfect place to buy good quality wool sweaters, scarfs, socks, gloves, home slippers, etc. The garments are often having beautiful traditional decorative patterns. I suggest trying especially the sweaters before buying to check if the wool does not irritate your skin.
Rosemaling motif items for home and to wear
Rosemaling (rose painting) is the decorative folk art of rural Norway that was developed in the 1700's and 1800's. You will find this motif on walls, ceilings, and furniture throughout Norway in homes and churches. If you like rustic and cottage aesthetic then it's worth searching for mugs, pots, pillow cushions and many home products adorned with the Norwegian rose pattern. In some shops you can even get rosemaling motif clothes accessories. It's quite difficult to get such items outside of Norway, so it's a really a souvenir appealing to Norwegian past, art and culture. Culture Geek's tip: search well in the antique shops for lovely rosemaling pieces.
4. Whale sausage
If you want to take some traditional Norwegian food home, it's worth getting some whale sausage. Whale hunting has been a part of Norwegian coastal culture for centuries. Nowadays, killing of whales is very controlled and whale meat is served mostly for special occasions. Norway is one of very few places in the world where you can eat dishes containing whales in some of the restaurants serving traditional Norwegian cuisine, you can also find whale meats in some specialty shops and supermarkets. The most common and easiest to find are whale sausages, they are also the easiest to pack and take home. However, the percentage of whale meat in the sausages in most of the supermarkets it's quite low, just to make the characteristic flavour. Thus, when buying products containing whale meat, I suggest to check the ingredients label to verify the actual quantity of it. 
5.Tørrfisk snack
Another Norwegian specialty food suitable for cabin luggage is stockfish which is a cod dried by the wind and the sun on giant wooden racks in Lofoten and other areas in Northern Norway. The stockfish is traditional food playing a significant role in Norwegian history for more than thousand years since it provided Vikings with sustenance during their excursions. Nowadays, you can easily find small, dry slices of tørrfisk in most of the supermarkets as it is very healthy and popular snack in Norway considered as  an important part of Norwegian gastronomical and cultural identity and heritage.
6. Gudbrandsdalen cheese
Another very traditional food is Gudbrandsdalen brown cheese which is very difficult  to find outside of Scandinavia. This caramel cheese is made from a pasteurized mixture of cow's and goat's milk and has a characteristic brown colour due to the cooking of the whey. Gudbrandsdalen has a sweet flavuor as a result of crystallisation of the milk sugar crystals during this process. The cheese is considered as one of the country's most iconic foods and can be easily founded in Norwegian supermarkets. A definite must try for foodies!
7. Cheese slicer
Do you know that the Cheese slicer was invented and patented in Norway? The tool was indeed created by the master carpenter Thor Bjørklund in 1925.  Bjørklund was reportedly irritated by the hassle of cutting cheese nicely when using a knife, so he designed the cheese slicer inspired by a common carpenter's plane  The mass production started in 1927. The cheese slicer is one of the most well-known symbols of Norwegian invention and design. Highly recommended for cutting hard cheese!
8. Troll figurines and toys
Trolls are Norwegian folklore creatures living together in small family units in isolated areas such as rocks, caves or mountains. The legends portrait trolls as hostile to humans and potentially dangerous. The elves prefer to live hidden in the wilderness. Nowadays, trolls play a vital role in Norwegian pop culture, often appearing in the modern literature. Trolls became internationally famous since the success of Tolkien's fantasy books and their screenings. In the souvenir shops you will find a lot of fluffy troll mascots that will be a nice gift for the children. You will also find a wide selection of figurines suitable for garden decoration. If you like quirky items in your garden, then trolls can be a good addition! Before making a purchase, check if the toy/garden accessory was produced in Norway to support local production and get an authentic Norwegian gift.
9. Moose leather products
Moose leather items are very authentic souvenir from Norway and difficult to find outside of Scandinavia. The leather is very soft and durable and you will find many small accessories like pouches, wallets, key chains made of it. Leather moose is very rare material so these kinds of souvenirs are really unique and make a functional gift.
10. Reindeer hide rug
Reindeer's hides are known for great insulation properties, they also have beautiful natural patterns and shades which makes the rugs a very elegant decoration of your home. Most of the rugs I found in the shops are for display purposes only. You can hang them on the wall or put on furniture, however you can't put them on the floor or to be used as a blanket. You'll probably find more sturdy rugs in more specialized shops in bigger towns. Note that this is an animal origin product so make sure that the skin is sourced responsibly and possesses necessary certifications. If you don't buy natural leather products you may opt for a faux hide alternative.
11.Vintage items from antique shops
If you like rural and cottage aesthetic it is a good idea to visit antique shops in bigger towns for old and unique objects. Norwegians like items made of natural materials like glass, wood, brass or silver. In antique shops you can find cosy lamps, stylish baskets, kitchen utensils and many others curious things. I recommend searching for functional gifts for home or some clothing so every time you use them, they'll remain you of Norway.
Some of the antique shops really look like an old Norwegian cottage ❤️