Egypt is a great travel destination if you long for the sun, warm sea water, one of the best coral reefs in the world and desert landscapes. Egypt is a cultural heaven for those are interested in archeology. Ancient Egypt offers a lot of UNESCO Heritage historical cities, with most famous being the Great Pyramid of Giza classified as one of the 7 Wonders of Ancient World. Another ancient highlight are pharaoh tombs situated in the Valley of the Kings.
If your first timer in Egypt, a definite must see are ancient pyramids in Giza
Egypt is also very convenient destination especially for European travelers with only 2-3 hours flight. With hot and dry climate, it's possible to have a pleasant swim from middle of spring until middle of autumn, with the highest sea water temperatures in July-September months.
No doubt Egypt is worth visiting, however the country is not the easiest destination to visit on your own. Most of the tourists opt for the travel agency and go for an organized trip.
In this post I would like to write my reflections about being a tourist in Egypt. To be transparent, I admit I chose to go to Egypt with travel agency and I didn't do any sightseeing on my own. However, I gave it some consideration before, and after visiting Egypt I still think I made a good decision to go on an organized trip. It doesn't mean that you shouldn't go to Egypt individually if you wish, it depends what are your expectations and what kind of experience you want to have.
I have chosen to go on an organized tour and find I made a good decision even if most of my travels are done without travel agency.
In this post, I will write you what you can expect when travelling with travel agency and alone so it will be simpler to make your own decision.
If you want to skip straight to photo relation, click here or scroll down.
Trip with travel agency
Egypt has two major tourists regions: Hurghada which is a beach resort stretching 40 km along Red Sea's coast and Sharm El-Sheikh which is an Egyptian resort town between the desert of the Sinai Peninsula and the Red Sea. Both areas are filled with big hotel complexes, often creating some sort of big oasis in the middle of the desert. You will find here many 4* and 5* hotels with a private beach, often having access to coral reef so you can snorkel and admire the colorful fish and sea plants not even leaving your hotel area.
My hotel complex in Hurghada
My hotel had a private beach for its guests, we had also access to a small coral reef situated very close to the coast. There was a long molo which allows to get to the coral reef and step to the sea using a small ladder. Since the beach is private it's not very crowded which is a big plus. I loved the beautiful sunsets one can observe in Hurghada.
Below I listed few useful facts about travelling to Egypt with a travel agency:
The most popular travel packages that the agencies offer are stays in

Hurghada, Sharm-El-Sheikh or a cruise along Nile

.
Egypt is an Arabic country, however the hotels listed by travel agencies have an

international atmosphere

so there is no problem to swim in a swimsuit in the pools or wear a bikini on the beach. Overall, the

dress code is relaxed

and you can wear Western clothes. Restaurants serve alcohol.
The hotels often have

an all-inclusive meal

offer and

extra activities for both adults and children

(yoga classes, dancing, some games for children).
The travel agency offer is a very good option for families with small children or older people.
If you don't like spending all your time in the hotel, travel agencies often offer

facultative trips

, alternatively, most of the times such excursions are offered by the hotels too. You may wait with booking your activities until your arrival to compare the prices.
The excursions which are the most common and most available are to:

Cairo and Giza to see pyramids, the Valley of the Kings and Alexandria

. There is normally plenty of excursions to snorkel, dive in the coral reef, or have a cruise on a special ship with transparent bottom to observe the Red Sea wildlife. Other sort of trips may be difficult to find.

The staff in Egyptian hotels speak English

and often other European languages so it's easy to communicate
If you like small boutiques hotels, such offers can be very limited since Hurghada and Sharm-el-Sheikh coasts are filled with big hotel complexes.
It's difficult to see other sites than the most touristic areas of the country, it's difficult to find a trip to go to local village or see less touristic parts of Cairo.
Individual trip
You can

discover "the real" Egypt

, visit local towns and villages and see how most of Egyptian people live.
In many villages people still transport themselves and their belongings on donkeys and live in rather modest conditions, Hurghada and Sharm-el-Sheikh are very artificial tourist areas, much richer than the rest of the country.

Tourist infrastructure is limited

outside of Hurghada, Sharm-el-Sheikh and main archeological sites. This mean that the roads may be in bad conditions and people don't speak English.
Egypt is an Arabic countries which means that on public beaches women may get a lot of (not always wanted) attention when in the swimsuit and bikini.
If you don't like big hotel complexes you can rent yourself a

boutique hotel or apartment

and live close to the locals.
You can try

authentic local cuisine

having your meals in different restaurants, in big tourist hotels the food is often monotone and optimized in sense of cost and taste to suit the tourists.
You can

travel in your own pace

, there is no guide organizing your time and telling you where to go and how much time to spend in the monuments.
Egypt is a country with an

elevated risk of terrorism

(directed at tourists too), if you go with travel agency, all official excursions have security guards to watch over you, when travelling alone you're more at risk of a malevolent incident.
As you see the trip with travel agency offers you a relaxed stay in comfortable hotel, private beaches, snorkeling in the coral reefs and secure excursions to discover ancient Egypt. However, you will see only the touristy Egypt and will not see how the Egyptians live.
The individual trip allows you to explore "the real Egypt", see the towns and villages inhabited by locals, look into local supermarkets, try the diverse and authentic Egyptian cuisine, learn more about customs and culture, stay in smaller hotels and private accommodation. You can visit the archeological sites as you wish, spending as much time as you like, stay shorter or longer when visiting the site depending how interesting you find it.
The official excursions often bring you to some shopping facilities and you don't have choice to skip it and stay in historical the landmark longer. Individual trips give much more freedom, however they are not as securized as the official ones, with no guards to ensure your safety, with travel agency it's obligatory there is a guard assigned to every trip.
Full photo report
Personally, I have chosen a hotel with a private beach and coral reef in Hurghada for my one week stay. If you plan to do some excursions to neighbouring Jordan (to see Petra) you may choose Sharm-el-Sheikh. I decided to have 3 excursions during my stay:
One day trip to Cairo and Giza to see the pyramids
For a first time visitor a definite must see are ancient pyramids in Giza, a short drive from Cairo. I definitely recommend to pay extra and enter the Cheops Pyramid inside. The way us is a bit narrow and claustrophobic but it's totally worth it! You can see the pyramid's structure from inside, and feel the mysterious atmosphere of the ancient tomb. Even if the pyramid is empty inside, you can still inspect the walls and get to the main area up where the sarcophagus was once placed.
Interior of Cheops Pyramid. Entrance is possible only during assigned time slots. If you're on an organized tour, inform your guide at the beginning of the trip that you want to enter so a bigger group can be assembled and the time for the visit appropriately allocated.
When in Giza, take in the desert landscapes surrounding the pyramids. You can also opt for a camel ride (or just take a picture with it), so far I've been lucky with camels and often found riding on them rather gentle. Fascinated by Giza don't forget to hydrate yourself even if you don't feel thirsty. In such high temperatures you lose water quicker than your body send you signals that you should drink.
Most of one day trips to Cairo and Giza include a short cruise along Nile river. This allows you to have a glimpse at Cairo and the perspective from the river is very nice one. Of course this is very limited but still shows you a bit of "raw Egypt" and not only the touristic sites. Having said that though, the river banks in the centre of capitals often have representational function so probably we saw a very good and rather affluent part of the city. That's my guess since the organized tour doesn't take you to different Cairo districts to better understand life in the capital. However, our guide told us that Cairo grows and many modern housing areas are created. Also new beach resorts are being built on the Mediterranean coast.
During this trip we have also visited the Egyptian Museum with a collection of Pharaonic antiquities. Note that many precious objects and mummified bodies where once kept in pyramids and underground tombs, however those artifacts no longer are to be found there. Part of them were stolen, part discovered during archeological expeditions and placed in the museums all around the world. So if you want to learn more about this ancient civilization it's worth to visit Cairo museum which houses collection devoted to Egyptian ancient world. In this museum you will find complete burials of Yuya and Thuya, Psusennes I and the treasures of Tanis, and the Narmer Palette commemorating the unification of Upper and Lower Egypt under one king, which is also among the museum's invaluable artifacts. You will also see spectacular statues of the great kings Khufu, Khafre, and Menkaure, the builders of the pyramids at the Giza plateau. A vast collection of papyri, sarcophagi and jewelry, among other objects, completes this uniquely expansive museum. The collection in Cairo is vast but I have an impression that many precious objects have been moved at some point to other countries. If you're interested in Egyptian ancient civilization you should visit the Louvre Museum in Paris with a very huge exhibition with many precious artifacts. You will also find very good exhibitions devoted to Egypt in London, Berlin and Turin so you can easily see them if you're based in Europe. Convenient, however the reflection on the fact of so many Egyptian ancient artifacts being in Europe I will leave to the reader.
One day trip to the Valley of the Kings to see pharaohs tombs
Another trip worth doing is a visit to Luxor and the Valley of the Kings. My tour has started with Luxor temples complex which was constructed over hundreds of years by Amenhotep III, Ramses II, Tutankhamun, and other pharaohs, Luxor Temple was the largest and most significant religious center in ancient Egypt. Temples are located on the east bank of the Nile River.
Luxor temples complex is an enormous open air museum. Many walls and columns are decorated with Egyptian hieroglyphs
The pharaohs tombs are on the other side of Nile river. A short ride by boat takes you to the complex.
Pharaohs tombs in the Valley of the Kings are one of the most precious archaeological sites in the world. This is a royal burial ground, with exquisitely decorated tombs for the pharaohs who ruled Egypt between 1539 and 1075 BC. The side has over 60 tombs in this small area, however only few of them are open for visitors. Pharaohs started building their tombs as soon as they got to the power. The more powerful and long living the pharaoh was, the more impressive tomb was built due to more time and means to refine the construction. The very famous tomb of pharaoh Tutankhamun is not the biggest or most decorated, however it is the only burial which was found intact in modern times. The tomb is so important because it allowed archaeologists to learn what an Egyptian king's tomb looked like and learn more about ancient Egypt. The coffin contained the mummified body of King Tut. Many precious objects have been found found in the tomb–golden shrines, jewelry, statues, a chariot, weapons, clothing–the perfectly preserved mummy. Nowadays in the tombs there is a mummy of the king and the precious artifacts were transported to the museums, part of the objects you can see in the Egyptian Museum in Cairo.
You travel to the tombs on a mini train to protect from the overexposure to the sun.
The tombs are well hidden in the desert landscape. No wonder it was difficult to localize them.
The tombs are intricately decorated. The longer the king reigned, the more decorated the burial is.
The last archeological site which I visited in Luxor was famous temple of Hatshepsut (she was the second historically confirmed female pharaoh!) which is a mortuary temple built during the reign of Pharaoh Hatshepsut of the Eighteenth Dynasty of Egypt. It is located opposite the city of Luxor and considered to be a masterpiece of ancient architecture.
Hatshepsut Temple is nested in the formidable rocks characteristic to this part of the desert. When admiring the view from the small hill on which the temple is located you will see the green vegetation area on the horizon, this a the Nile valley, this strategic for Egypt river for centuries fed Egyptian people making possible to develop agriculture in this otherwise raw and formidable desert landscape.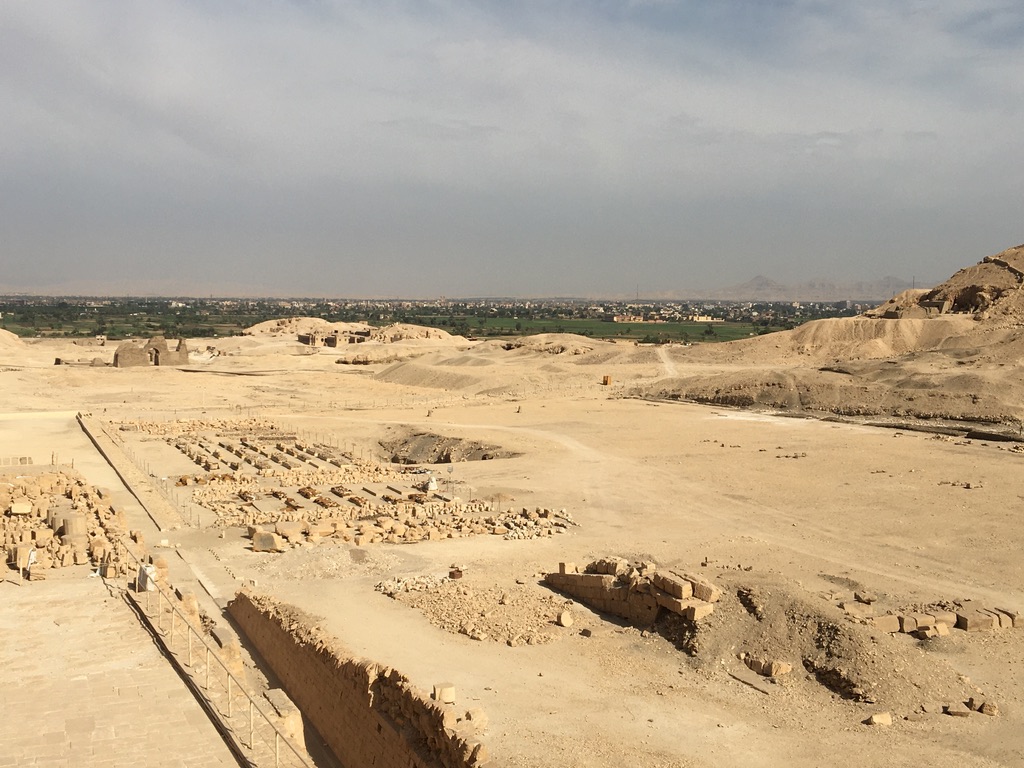 The cruise to snorkel and see the coral reef from the transparent bottom of the ship on the open waters of Red Sea 
Red Sea is famous from one of the best coral reefs in the world. Both Hurghada and Sharm-el-Sheikh offer great snorkel and diving possibilities, many hotels on the coast have their own access to the coral reef so you don't need to any excursions to observe the underwater world. However, the best coral reefs are in the open water so if you want to see a lot of colorful fish and big variety of sea plants then it's better to book an organized trip. The offer is very vast, you can choose snorkelling trip or diving, both for experienced divers and for beginners, all the equipment can be rented on the excursion. It's better to use the tour offered by the hotel or travel agency and don't save on the costs since not all tours are meeting safety standards. If you don't want to snorkel or dive on the open sea you can also go on a cruise on a special boat with transparent bottom deck. From there you can observe the coral reefs even if the visibility won't be so good as if you see it through your snorkelling googles. However this is still nice option, especially for the families with small kids. My ship was called Seascope and offered the bottom deck coral reef watching with an option of 30 minutes snorkelling. An option definitely worth consideration.
The Seascope upper deck looks like a usual ship. The transparent lower deck is completely under water. When on the open waters and close to the coral reef, guests are invited to go down and have a sit on special rotating chairs. From there you can comfortably see the coral reef.